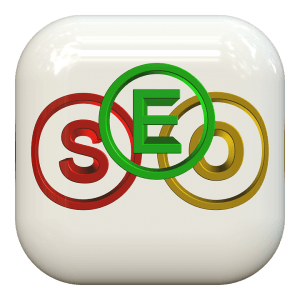 Cross SEO And Internet Marketing Off Your To-Do List!
We're not telling you anything you don't know by saying that where your website ranks in Google is important! About 90% of online traffic is generated through search engines. The study of search engines along with the implantation of actions that cause them to highly rank your website is called search engine optimization or SEO for short.
People don't use phone books anymore. Instead, they simply go to Google, type in "product/service in Spring Hill, TN" (or other areas such as Columbia, Nashville, or Franklin, TN or anywhere in the U.S.A. where we have clients). Whoever comes up in the top three spots gets nearly all of the clicks.
Research shows us that fewer than 10 percent of people searching for local services go to page 2. That means that if you aren't on page 1, you might as well not even have a website and are INVISIBLE!
Whichever of your competition is on top of Google is king of the hill (Spring Hill in our case) and you are literally losing business to them day and night. In fact, you are likely losing a lot of business! But we are here to take care of that.
Because of our seniority in the search-ranking world, with more than 20 years of experience in the industry, we are your ace in the hole! We are experts who can get your website ranking at the top because we know how Google works and what things it expects a great business to be doing online! We are search engine optimization (SEO) specialists with over twenty years in the industry making us one of the most experienced on planet earth. Our techniques are tried, true, and top shelf. Not only will we do important things for you and help you do things that will rank you higher in Google, but these things will be good for your business in many other ways and bring you more business from other sources outside of Google. And we always work within Google's guidelines (called White Hat SEO). This means your rankings will have staying power instead of being vulnerable to Google updates.
Facebook Marketing
We can also manage your Facebook account to maximize sharing and follower count. In fact, we can run an aggressive "Facebook Like Building" campaign that can get up to 3 thousand real likes per month, all working within Facebook's guidelines!
What if we told you that there's actually a science to Facebook and social media marketing just like there is when it comes to SEO? And, as you might have guessed, we are scientists in this field. Hire us and we'll be an ace in your hand, expertly helping you fatten your bottom line with our hyper-competitive desire to dominate rankings and build up quality audience numbers for our clients. Use the form to your right to contact us for a free competitive analysis of what your business is doing online!
Website Design and Development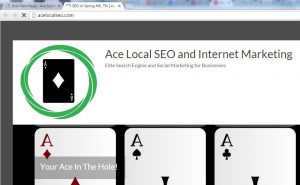 Ace Local SEO and Internet Marketing also provides state-of-the-art web design and development. You can read more about that service here.
We can set up a website for you that looks great to your eyes and we'll provide advice and suggestions on what web visitors expect and what will have more of them becoming clients. From there, we can manage your website going forward by adding new pages and content as you request, or we can train you to make basic changes to your website without you having to depend on us (we even teach SEO). We will work within your vision. Use the form on this page to contact us and we will get started on using the Internet to your advantage. In addition to providing the services highlighted on this page, we also train corporate staffs to develop websites, do SEO, and other forms of Internet marketing. Contact us for more information.